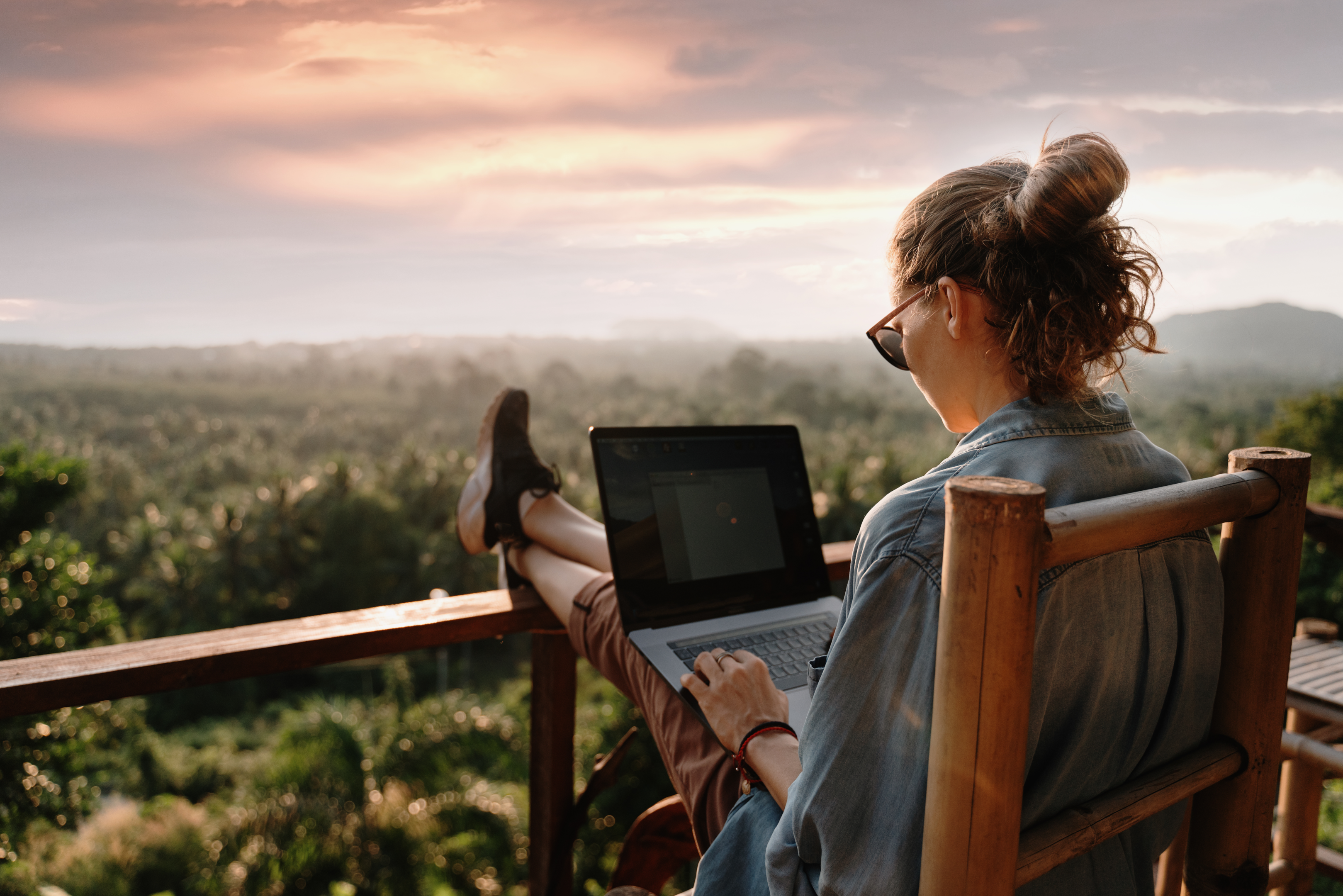 Respiratory therapists are in high demand with the employment market for this specialty area projected to grow by nearly 25% by 2030. The US Bureau of Labor Statistics estimates about 10,100 new job openings on average for RTs each year. Based on this, this also means that there is an increasing pressure on existing respiratory therapists to stay current with the latest advancements and techniques in the industry.
Respiratory therapy CEUs can help you stay up to date with changes in existing practices and learn about recent developments. TheCEPlace allows travel respiratory therapists or those on vacation to complete their continuing education requirements through self-study. You can obtain your CE credits by studying from home, at your workplace, in your car, by the pool, in a café, or even while vacationing.
Study from anywhere on your own time and complete your annual CE requirements with courses and exams from TheCEPlace.
Obtaining Respiratory Therapy CE Units Through Self-Study
Respiratory therapists are required to complete a minimum number of continuing education units in a given period (usually two years) to keep their license current. These requirements depend on the respective state board. Most professionals delay completing the mandatory continuing respiratory care education until it is time for license renewal. This can be a problem for you, especially if you are a travel respiratory therapist or have a planned vacation coming up.
Self-study materials are intended for learners to seek flexibility in the scheduling and location of their course. These usually consist of self-paced activities for a preset number of continuing education units. Depending on the course provider, these activities can be in the form of videotapes, online modules, podcasts or journals, manuals, online seminars, conferences, or a combination of these.
Most states accept a certain number of continuing education credits through self-study mode. Stemming from this, you should make sure that you check with your relevant medical board. For instance, the California board for respiratory care professionals has made it mandatory for all therapists to complete 30 hours of continuing education (CE) for license renewal. The minimum number of hours for the first renewal is 15 and these can be completed online through self-study modules.
Travel Respiratory Therapists can Benefit from Online CEUs
Travel respiratory therapists travel from city to city while performing their job responsibilities. They experience new hospital environments and provide patients with essential respiratory therapy skills. Even though travel respiratory therapists perform the same job duties as permanent therapists, maintaining their license and completing CE requirements can be tricky for them.
The primary goal of respiratory therapists is to help individuals suffering from cardiopulmonary disorders, premature infants, and lung cancer patients. This makes it even more important for them to stay current with the latest industry advancements. Travel respiratory therapists can benefit from the flexibility offered by online continuing education providers, especially if it's a self-study module that can be accessed from anywhere.
Key Advantages of Remote Learning for RTs
Remote learning doesn't just help travel respiratory therapists. Online courses can also be of use to regular or permanent professionals that are looking to take a vacation but need to complete their continuing education credits or those that have a busy schedule and don't want to take time off work.
These are a few benefits of online continuing respiratory care education:
1. Maintain Flexible Study Schedules
A frequent complaint of most medical professionals is that they have a hard time striking a work-life balance. You probably work 8 or more hours a day, which leaves very little time for yourself and the family. It's necessary to factor in commuting times and sleep. Completing your continuing education credits is probably the last thing on your mind when you are already juggling your professional duties, personal responsibilities, and well-being.
By using an online course provider, you can easily obtain your CE credits while relaxing on a beach somewhere. When you don't need to attend online seminars, you can work through the course content wearing anything you want – including your pajamas. Remote working and learning offer a greater sense of comfort and an enhanced work-life balance that helps to reduce stress. It can also save you a pile of gas money which is noteworthy in these high energy cost times.
2. Learn on the Go and Travel
You don't need to limit your creativity or plans to fit the course schedule. You can easily complete the continuing education hours from anywhere. This is particularly beneficial for professionals working as travel respiratory therapists. With remote learning, you can always complete your units while on the go.
3. Learn Anywhere at Any Time
Remote learning means that respiratory therapists can complete their continuing education units from anywhere and not just when they are at home. You can choose to get your CEUs when you are on the plane traveling to a different country, at a coffee shop by the beach, or in a tent at your favorite mountain trek.
There are a few course providers that allow the module to be downloaded and accessed from almost anywhere in the world. You may not even need a working internet connection. Flexible learning schedule can be a godsend to respiratory therapists that lead busy professional lives or have small children. The freedom to learn from anywhere is invaluable.
4. Learn at Your Own Pace
Self-study choices under remote learning offers opportunities for self-paced learning. Your instructors may provide you with the entire course module when you sign up. You can go through these modules on your own and take a test at the end to complete the course. In fact, you may find it easier to move more quickly through the topics and assignments that you can understand, while spending more time on the topics that you find challenging.
5. Better Comprehension of Content
Many researchers have observed that learners don't necessarily understand the content in a traditional teacher-student classroom setting. Moreover, when left with the module and allowed to read through it on their own, they attain a better understanding of the course content. You may find that you understand the respiratory therapy course structure better when obtaining your CEUs through self-study.
6. Revisit Difficult Topics
Generally, remote learning doesn't have a time schedule. You only need to get your continuing education credits in time for your license renewal. Most course providers offer a flexible schedule where the course is available for an extended period. This allows for revisiting hard-to-understand topics. You may find it helpful to spend more time on such topics.
It's essential to understand that respiratory therapy courses are designed to ensure that professionals remain updated with the latest changes and advancements in technology and techniques. Hence, it's pivotal that RTs take the time to attain a deep understanding of the course. After all, lives depend on the job you perform.
Choosing the Right RT CE Course Provider
There are several online providers of CEUs for respiratory therapy. In fact, you can shortlist the reputable ones by going through the AARC's continuing education portal. Most online courses on offer for respiratory therapy CEUs is based on a traditional model. They will require you to attend a seminar or live teaching sessions. This can be a problem if you are traveling.
You should instead find a course provider that offers remote learning or self-study respiratory CEUs. You should make sure the course provider and modules are AARC approved. These are a few other factors to consider:
Remote Access
It only makes sense that you should have unlimited access to your course module from anywhere in the world. You should not be limited by the course provider. The books or study material should be available online in an easy to download format. Registered nursing and respiratory therapists require course material that has to be as up to date and factual as possible. In physical books and other resources, there is always a risk that the course material is outdated.
Relevant Learning Materials
The American Association for Respiratory Care requires respiratory therapists to have relevant knowledge of the recent updates in the industry. You should always ask for a demonstration or sample of the course to get a feel of it. You should also look for a course provider that offers topics of interest to you. After all, you are investing your time and energy into reading the course material.
Quality Multimedia Element
You may want to find a course provider that offers engaging and interactive content. Many people don't want to go through lengthy paragraphs of boring text. It is easier to understand new topics when there is informative and interactive content present. There is no one fixed course module approved by the AARC or the board. You can improve your learning experience by finding a course provider offering an easy to understand and engaging course.
Learning Outcomes
You need to identify your expectations from the online learning course. Do you want the easiest way of obtaining your continuing education units at the expense of learning new things or would you rather grow your knowledge and further your career? It's best to find an online CE provider that strikes a balance between the two.
It's vital that you don't get enamored by frivolous elements in the course. There are a few CE providers that gamify the content with scoreboards, mascots, and badges. Pertaining to this, this won't necessarily tell you how engaging or structured the content really is.
Sign Up For Your Extended Learning Courses Today!
TheCEPlace offers AARC approved continuing education courses for respiratory therapists that are working at a permanent position or traveling between different medical facilities and home-care patients. Our courses are designed to be simple while providing maximum knowledge to learners. You can attain the knowledge necessary for you to stay current with your field and further your career without having to invest a lot of time, energy, or money.
You can complete your medical board's RT CEUs requirements by accessing self-study courses and tests any time of the day from any mobile device or computer. You don't even need internet access at all times since the modules are available in a downloadable format. All tests are taken online through the website. TheCEPlace is one of the few RT CE course providers to offer unlimited attempts to learners at no additional charge.
You can take the test several times till you are satisfied with your results. We will send the course completion certificate to your registered email address as soon as you clear the test. It's critical to save this certificate since you may be asked for it during the license renewal process.
These are a few other reasons to choose TheCEPlace for your on-the-go education:
Connect New Content to Old
Our course modules are designed by industry experts with a deep understanding of the learning material. You can be confident that you would be able to connect any new updates and advancements made in the different respiratory care techniques and technology with what you are already used to. More expansive topics, such as Clinical Assessment in Respiratory Care or Med-Surg Respiratory Patients are broken down into two parts for easier understanding.
Self-Explanatory Course Module
The course is self-explanatory and doesn't require a classroom learning model. You can go through the reading material at your own pace from anywhere in the world. Our team understands that the most important thing in learning is to connect the new with the old. When introducing a new concept or skill that is not in rampant use across the country, we will use examples and interactive materials to help you gain a better understanding.
Self-Assessment
You need to complete a test at the end of every course. This test is a vital element in the continuing education course. The best part about TheCEPlace is that you can take the test as many times as you need to get a passing score. And, there is no fixed schedule to taking the test. Whenever you are ready, you can login to your account and request for the test. There is no additional charge to taking the test again if you don't clear it the first time.
At TheCEPlace, we understand your requirements because we come from the same background. We know how difficult it is to juggle multiple roles in your life as a respiratory therapist. You may want to use your vacation days to get away from the regular humdrum of your life. You can always let your employer know that you need a few days off to work on your continuing education hours. You can count on TheCEPlace to make sure the CE course can be completed from anywhere in the world.
Choose the Leader in CEUs for RTs
TheCEPlace is a leading course provider for respiratory therapy continuing education units. You can successfully complete your CE requirements from anywhere in the world by signing up with TheCEPlace. Our RT courses are approved and accepted in all 50 states and Puerto Rico. We have helped numerous learners satisfy their CE requirements and apply for license renewal without stress, frustration, or confusion.
All RT modules on offer at TheCEPlace are developed by medical professionals, researchers, and academicians after extensive research to ensure learners get the most updated and relevant information for furthering their career. We have your back when it comes to continuing education hours. Get started on completing your state mandated requirements. New online RT courses. Call us today at 833-388-2600 or fill out this online form.